SAN DIEGO, Calif. (June 14, 2019) – Sundt Construction, Inc. (www.sundt.com) recently began demolition at Emerson-Bandini Elementary, beginning the initial phase of a total site transformation.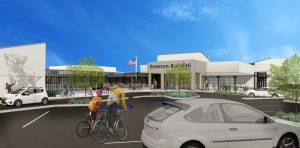 Sundt will construct a 22,000-square-foot, two-story wing of classrooms; a 5,200-square-foot administrative workspace; new classroom halls for both kindergarten and preschool; a new outdoor amphitheater and a cafeteria.
"We're excited to build an atmosphere that will help educate and inspire kids for years to come," said Jared Mettee, Sundt's project manager. "This work is at the heart of our company's purpose: to build environments where our clients, employee-owners and communities prosper."
The team will also fully refurbish the multi-purpose building, which is comprised of a multi-purpose room, library media center, cafeteria and kitchen. Exterior improvements include reshaping the existing turf field and expanding it to over 26,400 square-feet.
The initial phase of demolition is expected to complete by fall of this year, with the project set to finish in winter 2021.  The project is fully funded through the San Diego Unified School District's Propositions S and Z.
About Sundt
Sundt Construction, Inc. (www.sundt.com) is one of the country's largest and most respected general contractors. The 129-year-old firm specializes in transportation, industrial, building and concrete work and is owned entirely by its 2,000+ employees. Sundt is distinguished by its diverse capabilities and experience, unique employee-ownership culture and depth of self-perform expertise in more than ten major trades. Half of Sundt's workforce is comprised of skilled craft professionals who, together with the company's administrative employees, enable Sundt to fulfill its mission to be the most skilled builder in America. Sundt has 11 offices throughout California, Arizona, Texas and Utah and is currently ranked the country's 54th largest construction company by ENR, the industry's principal trade magazine.
###