TEMPE, Ariz. (April 9, 2019) – Sundt Construction, Inc. (www.sundt.com) recently celebrated the topping out of the Canopy by Hilton Tempe, located at the northeast corner of University Drive and Myrtle Avenue.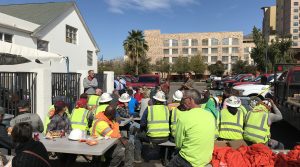 Nearly 150 people were on site for the celebration, including the project's subcontractors, architecture firm and engineering team. All in attendance enjoyed lunch and a short ceremony, and received long-sleeve high-visibility shirts as gifts.
The project includes a 14-story hotel tower and three-level parking garage. The hotel will boast 198 guest rooms, 3,000 square feet of conference and meeting spaces, a lobby restaurant and a rooftop bar and pool. It is located adjacent to the Union Tempe mixed-use development, which Sundt completed in July 2018. The hotel is scheduled to open to the public in 2020.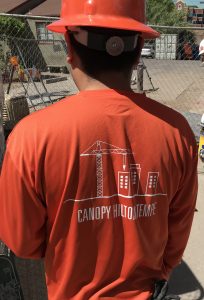 "The team has gone from ground level to 164 feet above ground with concrete in under six months," said Justin Gillies, Sundt's project superintendent. "Holidays and rain haven't stopped work since the groundbreaking in September. I can't say enough about our team on this project. From management to those putting work in place, the chemistry this team has is incredible. The process and success made it really fun to come to work in the morning, knowing we had a team that was not going to be deterred."
Sundt is also building the Canopy by Hilton Downtown San Antonio along the Riverwalk, which is expected to be completed this year.
About Sundt
Sundt Construction, Inc. (www.sundt.com) is one of the country's largest and most respected general contractors. The 129-year-old firm specializes in building, transportation, industrial and concrete work and is owned entirely by its 2,000+ employees. Sundt is distinguished by its diverse capabilities and experience, unique employee-ownership culture and depth of self-perform expertise in eight major trades. Half of Sundt's workforce is comprised of skilled craft professionals who, together with the company's administrative employees, enable Sundt to fulfill its mission to be the most skilled builder in America. Sundt has 11 offices throughout California, Arizona, Texas and Utah and is currently ranked the country's 65th largest construction company by ENR, the industry's principal trade magazine.
###