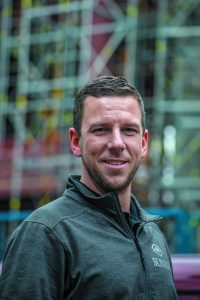 Senior Virtual Design & Construction (VDC) Manager Mark Epstein was recently named among ENR Texas & Louisiana's 2019 Top Young Professionals. After completing two concurrent master's degrees in architecture and construction management at Washington University in St. Louis in 2010, Mark accepted his first position as a project engineer with a construction management firm. He later moved into an architecture role with Gensler in Austin, Texas, where he spent three years learning to produce high-quality construction documents and eventually became a project manager. Soon after, a friend introduced Mark to Sundt Construction in San Antonio, where he now leads our BIM and VDC strategies. Mark is advancing Sundt's technology capabilities with a full immersion of the Texas Building Group into BIM and VDC processes. Part of his goal is to strengthen communication between the office and field, and better transform concept into reality. But there's a lot more to Mark and to his work than meets the eye.
With your unique background in both construction and architecture, what drew you to Sundt, and how is it being back in construction?
The transition back to construction has been really refreshing. It's been good to get on the jobsite and touch and feel the work—not just in the digital form or detail form on paper, but to be out around the work, the people performing it, and then to learn from their expertise. Some of these guys have been doing this longer than I've been alive. I have a huge amount to learn, and I appreciate that. On the contractor side, there's that ability to learn and people's willingness to teach and take you under their wing, and in architecture I'd say it's just much more limited in that regard. So, yeah, it's been a great transition.
Speaking of that dynamic, how has the team in San Antonio taken you in and supported you in your role? 
The leadership down here is incredible. Eric Hedlund and Todd Calder have really high aspirations for what they want us to do, but at the same time they provide us with the resources that we need to do it. That, to me, shows that they're serious about accomplishing these goals. When I came to San Antonio, they knew I had an architecture background; I was working with "backbone" technologies like Revit and Navisworks, which are cross-disciplinary for the architecture and contractor side. So, they're leveraging that experience to build upon what they want to achieve with technology here, and they've been extremely supportive.
What are some innovative things you've been working on recently, things that you get excited about?
Well, I give credit again to the leadership and resources that Sundt has provided. Dominic Daughtrey with the Continuous Improvement Department has gotten me up and running with a drone fleet here, so that's been a great way to explore technology and implementation. You've got the hardware aspect, but then you also have the data and deliverables to manage and distribute. That's been a real game-changer to experience how that data can affect how we do work on site, you know, bridging that gap from computer to the field. That's not necessarily the most innovative thing in the world, but it's just been eye-opening to see where else it can go, for example, taking that jump from basic drone flights to importing footage into augmented reality applications and 4D scheduling.
But, you know, the innovation isn't the tech itself; the innovation is how we're deploying the hardware and software packages with our project teams. It's helping project engineers, managers, and superintendents understand how technology can help them do their job, to be safer and more efficient, to have less rework. I mean, you can hire a "tech person" or a few "tech people" in this role. But that's not what we're doing here; we're infiltrating the jobsite with this tech, having superintendents and project engineers know it, and having people at the project level buy into technology as a comprehensive approach. We've actually got a guy here, age 60, who's really excited about using 4D scheduling—not to sound ageist, but across the industry, you have a lot of construction veterans who typically don't want to learn that stuff. But when we have people here buying in, that's a big deal. To me, that's innovation. That's success.