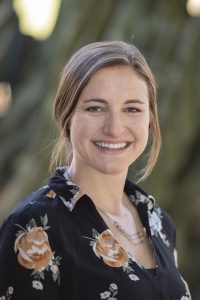 Companies and teams often brag about an "all-star recruit" who has committed to their side, but it's not as common that we get to celebrate bringing on an "all-star recruiter." Luckily for Sundt, that's exactly who Madison Williams is. This week, Maddy joined Sundt as a full-time employee-owner after completing her internship with the Workforce Development Group.
Maddy grew up in Denver, Colorado, where she lived in the same home her whole life, before moving to Tempe to attend Arizona State. She has held different jobs in the service sector, but working for Sundt is her first "real, adult job" she said. Maddy graduated in December with a Bachelor of Arts in Business with an emphasis in Spanish Language and Culture. Since joining Talent Acquisition in March of last year, Maddy has been a valuable asset in recruiting top talent and helping Sundt maintain its sustainable growth as a company. When asked to share a bit about herself, she gladly obliged.
How much did you know about Sundt before you started your internship?
Honestly, not much. I was researching HR-related internships back in March, and an offer at Sundt came up in my search. I applied without really knowing what Sundt does as a company, but once I started researching, I was intrigued by the large scope of projects that Sundt is a part of. I didn't know much about the construction industry before starting my internship, but I've learned so much in the short time I've been here.
What's the most interesting part about being involved in the construction industry on the Talent Acquisition/Recruiting side?
The most interesting part of being in college recruiting specifically is that I get to work with people from all four groups/divisions at Sundt. Sometimes it's difficult to stay up-to-date on all the projects going on throughout the company as a whole, but it's been interesting to work with people from all the various disciplines and markets.
What advice would you give college students who want to work for Sundt?
I would tell them not to pigeonhole themselves into one specific type of work. A lot of college students studying construction or engineering will have an idea about the type of project they want to be on, so they don't open themselves up to other possibilities within construction. An internship is the perfect time to explore the many different aspects of work that construction, and Sundt specifically, has to offer.
What's the coolest thing you've ever done?
Running a marathon in under 4 hours last February. I had trained for the race, but it was my first marathon, and I was not expecting to do very well. My one goal was to finish. Once I reached the 13-mile mark, my body almost went into auto-pilot until mile 20, and then it started to get tough. But I finished in 3 hours and 46 minutes, and I realized how insanely powerful the human body is—sometimes you just have to convince your mind that it's okay!