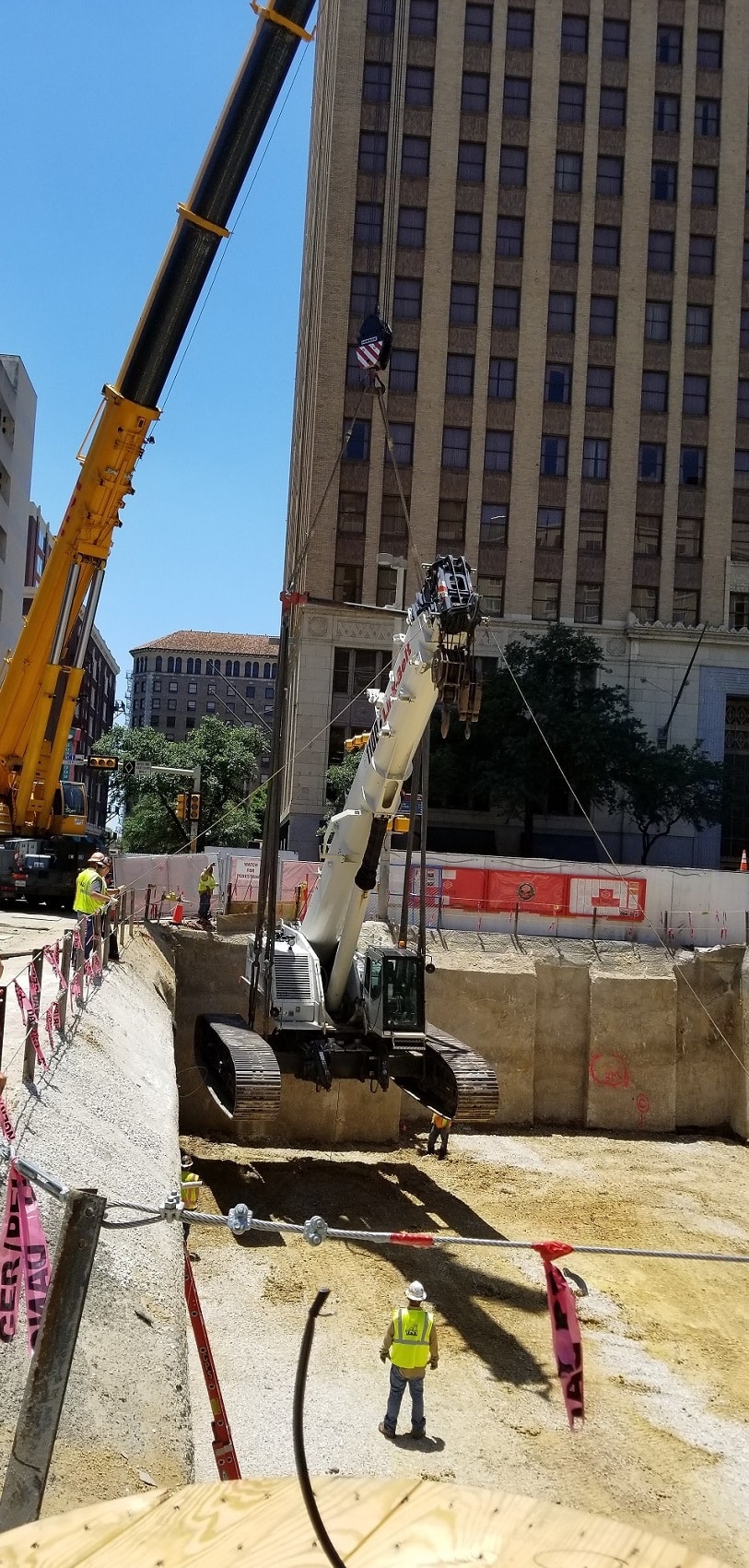 We will use every bit of our skill to successfully build the Canopy Hilton River Walk, a 22-story hotel in downtown San Antonio on a zero lot line. We crossed one of our first big milestones May 6 when we placed the drill rig into the 20-foot-deep excavation hole.
Our team arrived by 5:30 a.m. and started the process of placing traffic barricades that closed Commerce and St. Mary's streets. The 500-ton crane and its eight supporting semis carrying rigging and counterweights arrived at 6:30 a.m. and were positioned. An hour later, the auger cast pile drill rig, which weighs 145,000 pounds, arrived and parked at its lift position. It took three hours to position the crane in the intersection, place the outrigger dunning mats and set counterweights.
The operation took weeks of coordination, especially given the tight surroundings. Tall buildings, including a 24-story hotel across the street, fill the area, and the process of coordinating the closure of two busy downtown intersections took planning and constant updates to all stakeholders in the immediate area. Stakeholders included several hotels, businesses, and a church one block to the north.
"The team put a great deal of time and effort into this operation," said Project Engineer Anthony Pallini. "We spent months planning the logistics with numerous entities in order to make sure that we were not missing key components of the undertaking. It was truly a Sundt team effort as the Texas Building District and Concrete Division relied on each other's strengths to develop and execute the critical lift."
Pedestrians are always around, but during the lift, foot traffic was kept away from the jobsite.
"When you shut streets down and put a crane in the middle of a busy intersection it's going to attract people," Senior Project Manager Fred Galvan said. "Also on a Sunday morning, we had to consider there's a church one block down and the worship service occurred during our operation."
The drill rig will be removed in June and the same process to install will be reversed using lessons learned from this first phase. In July, the project tower crane will arrive and take three days to put together. The hook height of the tower crane will be 306 feet, giving us two cranes in the San Antonio skyline. The second is located at the CPS Energy Headquarters project.
Click here to watch the project's progress.