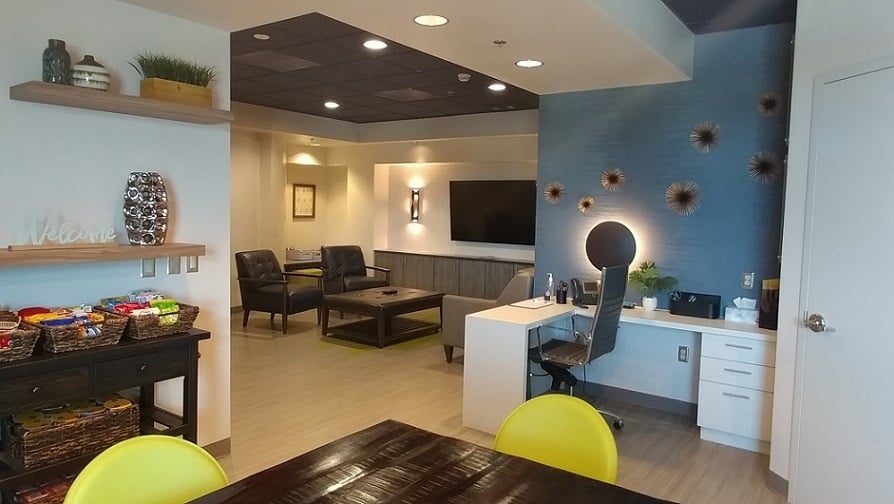 Our work at Banner UMC-Tucson had a rewarding side project with unwavering support from the owner, our JV partner and subcontractors.
The team combined to overhaul the Ronald McDonald Family Room at Banner Children's Diamond Children's Medical Center at no cost to Ronald McDonald House Charities. The new facility, which opened last week, is a more welcoming environment for families of children who are being treated at the hospital. The room helps them feel more comfortable during a stressful time.
Prior to our involvement, the place needed a little work. Located on the fourth floor of the hospital, just outside the Neonatal Intensive Care Unit, the 15-year-old facility looked like a waiting room.
"The project was an overhaul of the entire space," Project Manager Jeremy Kwapich said.
The approximately 500 square feet of renovations included work on the living room, work area, kitchen and computer space. The crews painted walls, installed millwork, countertops and shelves, replaced the lighting and flooring, added a ceramic tile backsplash in the kitchen and replaced ceiling tiles.
Ronald McDonald House Charities of Southern Arizona CEO Kate Jensen had raised funds for the renovations and even reached out to a contractor, who suggested she speak with Sundt. She got in contact with Sundt Senior Vice President Ryan Abbott, who put her in touch with Jeremy and Field Engineer Daniel Kovach about doing the work
Kate was planning to make a few compromises to pare the budget. After the sides agreed to start work March 1, Kate asked about payment. She was floored when Jeremy and the team said everything would be covered and the new room would have what she requested.
"They never said Sundt would pay for it," Kate said.
Jeremy said: "It was my goal to get the construction costs of the project 100 percent donated. With the help of Banner, DPR Construction and all of our subcontractors' willingness to help such a wonderful charity, we were able to achieve the goal. The project was truly a team effort among all parties."
The new family room allows families to rest and regroup with refreshments in a relaxing atmosphere. Gone is the hospital waiting room feeling.
Moms and dads who have children in the hospital are under an unbelievable amount of stress. The Ronald McDonald Family Room offers a little bit of respite. The newly remodeled room has soothing colors, soft lighting and comfortable seating. The room is staffed with volunteers who offer visitors a hot cup of coffee, a snack and a smile.
"The guys went to the mats to see that we got everything we wanted," Kate said. "They wanted to make sure we were happy with everything. It was a godsend to work with them. We are really thrilled."