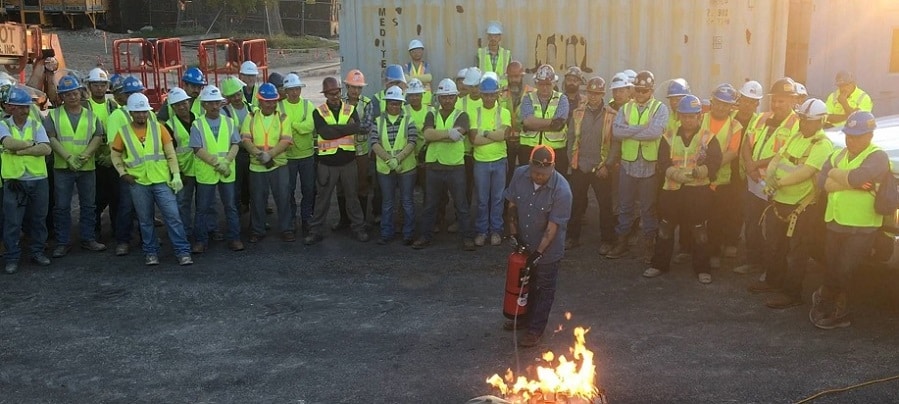 Putting out fires at work or home requires the proper equipment. Being prepared can make the difference between life and death or, at the very least, help avoid property damage.
Our team at the CPS Energy Headquarters project in San Antonio got a firsthand look when AmPro, one of our safety equipment suppliers, put on an extinguisher demonstration earlier this week. AmPro is one of several Sundt partners who have shared their expertise during National Safety Week. This is our fourth consecutive year we have been an event sponsor.
In the demonstration of what not to do, the AmPro representative used a Type A extinguisher, filled with water, to douse a propane fire. No luck. It was a prime example of using the wrong equipment for the task.
"The reason it didn't go out is propane fires are continuously fueled," said Senior Field Superintendent Shawn Werner.
There are extinguishers for all kinds of fires.
Type A: materials like cloth, wood and paper.
Type B: combustible and flammable liquids like grease, gasoline, oil and oil-based paints.
Type C: electrical equipment like appliances, tools or other equipment that is plugged in.
Type D: flammable metals.
Type K: vegetable oils, animal oils and fats in cooking appliances.
We use Type A-B-C extinguishers at our sites because they contain dry chemical powder that puts out most common fires. Home improvement stores carry multipurpose extinguishers that cover Class A through Class C.
Make sure your home and workplace are armed with the right equipment in case of a fire. For more information, please visit the U.S. Fire Administration's website.