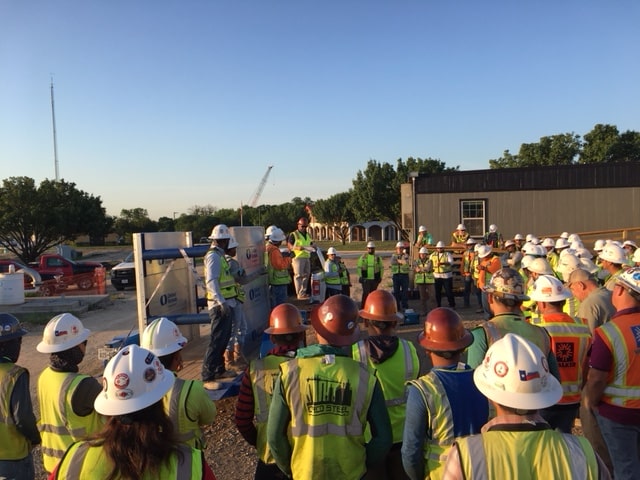 National Safety Week got underway at our jobsites across the Southwest on Monday. The day's theme was "Excavations, Flagging and Controlled Access Zones" and included presentations from vendors we work with to keep our employee-owners and subcontractors safe.
More than 80 employees and subcontractors attended a demonstration by United Rentals at our Wilson Creek Regional Wastewater Treatment Plant project in Allen, Texas. Wilson staff were on site at 7 a.m. with a trench box, a steel or aluminum structure used for protecting workers to avoid cave-ins while performing underground work.
Excavation and trenching are among the most hazardous of construction operations. Cave-ins are more likely to result in fatalities than other excavation-related accidents during trench shoring and excavation.
Several of our craft professionals are new to the company and the one-hour presentation was among their first impressions of our emphasis on safety. We have been a Safety Week sponsor for the past four years.
"I asked 15 craft workers how it went and they really liked it and thought it was interesting," said Safety Representative Brien Brenfleck. "A lot of them had never been with a company that had done Safety Week."
Safety Week's mission is to raise awareness of the construction industry's continuing commitment to eliminating worker injury, and to clearly communicate its dedication to a shared culture of care and concern.
Our Safety by Choice program focuses on how and why workers need to be safe. We encourage our employee-owners to make good choices every day so they can go home to enjoy their favorite activities with family and friends.