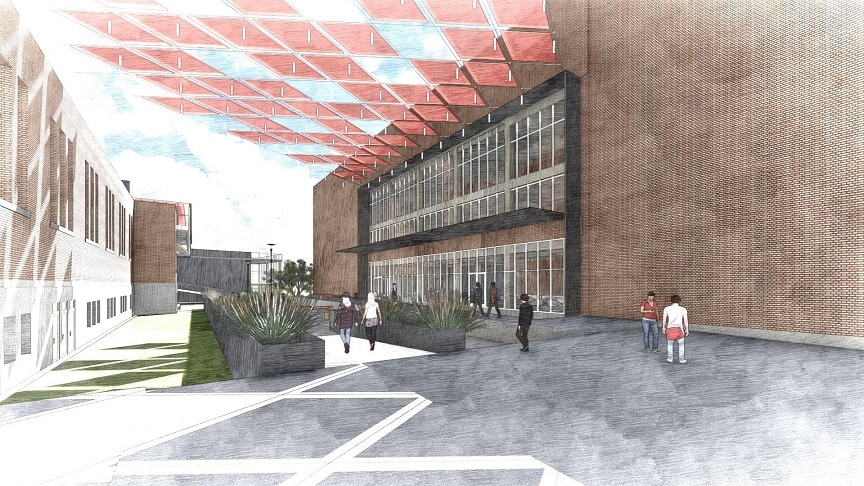 When the University of Arizona's Class of 2018 comes back to campus in a couple of years, many graduates won't recognize some corners of campus.
The biggest change is coming thanks to evolving trends in education and retention that have led UA officials to develop the Student Success District concept. The project we're performing includes four buildings and eight user groups, all with the goal of making students more comfortable and more likely to graduate.
Bear Down Gym, built in 1926, will join the Main Library, Science Library and new Student Success Building to comprise the district. The facilities will be linked by canopies, walkways and bridges on what will be our 60th project for the university, creating a campus core that includes the best of the university's academics, research, student support and success services.
Here's a little of what lucky students will experience starting in 2020.
Everyone will like it a latte: The district will have collaborative work areas, tutoring spaces, classrooms, retail spots, restaurants and even workout rooms. Study, get a warm drink and try hot yoga.
The great outdoors is coming inside: We're turning brick walls into glass, bringing the elements indoors to make the facilities more comfortable and relaxing for students and staff. Like most modern corporate campuses, the Success District reflects how students best function on school campuses.
There's room for more: Construction will take place over two phases. The Main Library and Student Success Building will be worked on first followed by Bear Down Gym and the Science Library. The project scope could grow again. The three-story Student Success Building could become four stories as other user groups are showing interest, bringing more students into the fold.