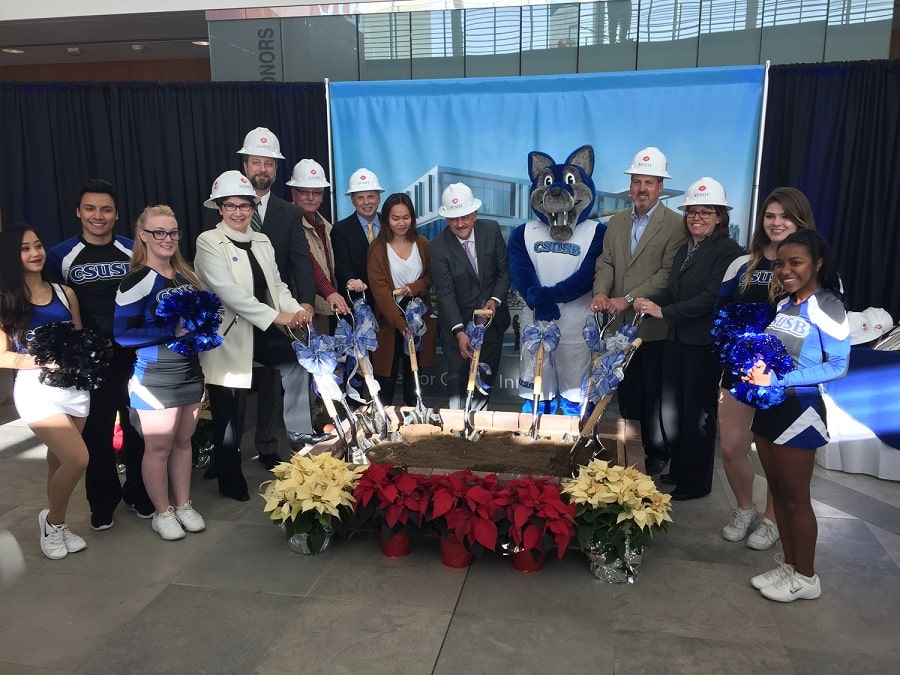 We recently celebrated the groundbreaking of California State University, San Bernardino's Center for Global Innovation (CGI) Building, the new home of the school's College of Extended Learning.
"There was a lot of excitement from alumni as well as current students, including testimonials on the difference the College of Extended Learning has made in students' lives," said Sundt Project Executive Betty Lynn Senes.
We are the Construction Manager at Risk for the $55 million project. The 71,000-square-foot, three-story classroom and administrative office building will also feature food service in the main "Global Gallery." The facility will provide a centralized location for international students, allowing opportunities for them to collaborate and integrate more with the general student population, and will enrich student and academic life. An extensive covered plaza along one side will provide a welcome respite from the sun and wind.
"We are excited to build this new hub of student life at Cal State San Bernardino," Betty Lynn said. "Sundt Construction is all about continual learning, and the College of Extended Learning serves the local population from high school students to professionals seeking advancement to retirees – providing a rich educational experience for the diverse population of CSUSB students."
The CGI will include 24 classrooms, a 250-seat auditorium, reconfigurable multi-purpose rooms, study lounges, retail food services and spaces for hosting indoor and outdoor special programs. Sustainable building features include extensive use of natural lighting and ventilation, energy-efficient LED lighting with smart controls, water-efficient plumbing and energy-efficient windows.
The project is scheduled to be complete in late summer 2019.