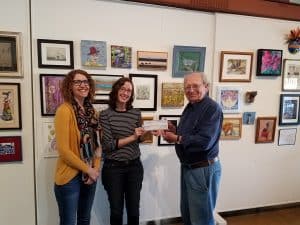 TUCSON (Dec. 5, 2017) – Through a $1,500 grant, Tucson youth will have the opportunity to explore art by trying multiple mediums and learning from professionals at The Drawing Studio.
"The Drawing Studio is honored to receive a grant from Sundt Foundation for our youth outreach program," said Interim Executive Director Julie Glass. "Sundt's generosity will allow our community's youth to learn and practice art from professional artists in a studio setting with options such as pen and ink, printmaking, pastels, watercolor, and much more. Youth art education increases positive youth development and we are grateful to be able to provide accessible and affordable art education to the youth in our community."
The Drawing Studio makes art accessible to individuals and brings the benefits of art to the community through affordable classes, workshops, events and exhibits.
The following organizations also received grants this quarter.
$3,000 Award Recipient
American Gold Star Mothers, Tucson Chapter is an organization of mothers whose children have lost their lives during military service.
$2,000 Award Recipients
Arizona's Children Association is the oldest and largest child welfare and behavioral health agency in the state.
Big Brothers Big Sisters of Tucson provides children with one-to-one relationships to build their confidence, achieve their aspirations, improve their relationships and avoid risky behaviors.
Compass Affordable Housing works to connect people to low-cost housing with supportive services. Staff provides case management, referrals, financial assistance and advocacy.
Project Linus Tucson provides handmade blankets to children who are ill, traumatized or otherwise in need. Last year, the volunteer organization distributed more than 7,000 blankets.
TMM Family Services operates a variety of programs to serve at-risk children, families and seniors. Programs include children's group homes, transitional apartments for single mothers, a community closet of reusable and recycled materials, affordable rental housing and a home repair program.
Turn Your Life Around provides DUI and alcohol abuse counseling, domestic violence and anger management counseling and parenting classes.
$1,500 Award Recipients
Higher Ground, A Resource Center provides services that address mental, emotional, social spiritual and physical health of individuals. Programs include academic tutoring, after-school recreational programs, mentoring, financial literacy, drop-out prevention services and more.
The Drawing Studio serves about 1,500 individuals annually through a variety of art classes and workshops. The studio also hosts events and exhibits to demonstrate the positive effects of art on individuals and the community.
YWCA of Southern Arizona serves the community through programs designed to eliminate racism, empower women and promote peace, justice and freedom.
About The Sundt Foundation
The Sundt Foundation was established in 1999 by Sundt Construction, Inc. as a way for its employee-owners to give back to the communities in which they live and work. The organization is funded primarily by contributions from Sundt employees, which are matched by the company. To date, the Foundation has awarded more than $8.3 million in donations. Nonprofit organizations interested in applying for a grant are encouraged to visit https://www.sundt.com/community-industry/sundt-foundation/ for more information. All non-profits must be 501(c)3 groups. Sundt has offices in Tempe and Tucson, Arizona; San Diego, Irvine and Sacramento, California; San Antonio, Fort Worth, Irving and El Paso, Texas and Salt Lake City, Utah.
About Sundt
Sundt Construction, Inc. is one of the country's largest and most respected general contractors. The 127-year-old firm specializes in transportation, industrial and building work and is known for its commitment to quality and innovative approach to construction services. Sundt has offices throughout Arizona, Texas, California and Utah and is 100 percent owned by its approximately 2,200 employees. The company is consistently ranked among the Best Places to Work by business publications in multiple cities and in 2016 was named the nation's safest construction company by the Associated General Contractors of America for the second time in a decade – an honor no other contractor can claim.
###