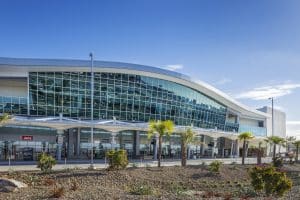 SAN DIEGO (Nov. 20, 2017) – The Austin/Sundt joint venture team, in conjunction with the San Diego County Regional Airport Authority, accepted an Associated General Contractors Build San Diego award last week for the San Diego International Airport Rental Car Center in the category of xcellence in Building Construction – Public Work.
The two-million-square-foot building can accommodate as many as 19 rental car companies under one roof. The structure includes a customer service building, maintenance, fueling and washing and a 5,400-car ready/return area.
"We're proud to have our work recognized by our peers in the industry," said Sundt Project Director Brad Kirsch "Our joint venture team was able to deliver a complex structure that significantly improves the airport rental car process."
The facility is LEED Gold certified. It features reclaimed water and site bioswale filters, energy efficient equipment and lighting and the installation of regional and recycled materials. Through the use of shared facilities, energy and water use are consolidated and reduced. The centralized facility also helps improve air quality by reducing the number of shuttles from 81 to 16, all of which use alternative fuel.
The rental car center is the largest concrete structure in San Diego. The project team self-performed the placement of 97,500 cubic yards of concrete in just twelve months, covering nearly two million square feet of floor space (averaging an acre a week).
The project has been honored with multiple awards including the American Public Works Association Project of the Year, Structural Engineers Association of San Diego Certificate of Merit in Infrastructure and a Concrete Reinforcing Steel Institute Honors Award.
About Sundt
Sundt Construction, Inc. (www.sundt.com) is one of the country's largest and most respected general contractors. The 127-year-old firm specializes in transportation, industrial and building work and is known for its commitment to quality and innovative approach to construction services. Sundt has 11 offices throughout California, Arizona, Texas and Utah and is 100 percent owned by its approximately 2,100 employees. The company is consistently ranked among the Best Places to Work by business publications in multiple cities, and in 2016 was named the nation's safest construction company by the Associated General Contractors of America for the second time in a decade – an honor no other contractor can claim. Sundt's charitable arm, the Sundt Foundation, recently crossed the $7.9 million mark in grants made to hundreds of nonprofit organizations across the country.
###