SACRAMENTO (Nov. 20, 2017) – California State University, Sacramento and Sundt Construction broke ground last month on the university's Science Complex, a 96,000-square-foot, five-story facility that will centralize the College of Natural Sciences' Biology and Chemistry departments.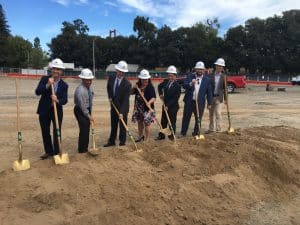 This state-of-the-art complex will have 30 glass-walled teaching and research labs outfitted with the latest equipment; a 2,500-square-foot planetarium with 120 seats for full-dome, high-definition "sky shows;" and a retractable-roof observatory housing two telescopes. The facility is being built to meet U.S. Green Building Council LEED Gold® standards.
The new building will invite collaboration among academic disciplines through clustered laboratory spaces and increased student interaction in shared study spaces.
Other exciting features for the new building include:
a 235-pound polished cast brass Foucault pendulum that will hang from the lobby ceiling and mark Earth's rotation;
a rooftop green terrace that will be a sustainable mini-park to capture stormwater runoff and help insulate a section of the building;
outdoor benches and tables made from campus trees that were removed for a gas pipeline upgrade.
The $76 million design-build project will be ready for students in fall 2019.
About Sundt
Sundt Construction, Inc. (www.sundt.com) is one of the country's largest and most respected general contractors. The 127-year-old firm specializes in transportation, industrial and building work and is known for its commitment to quality and innovative approach to construction services. Sundt has 11 offices throughout California, Arizona, Texas and Utah and is 100 percent owned by its approximately 2,200 employees. The company is consistently ranked among the Best Places to Work by business publications in multiple cities, and in 2016 was named the nation's safest construction company by the Associated General Contractors of America for the second time in a decade – an honor no other contractor can claim. Sundt's charitable arm, the Sundt Foundation, recently crossed the $7.9 million mark in grants made to hundreds of nonprofit organizations across the country.
###