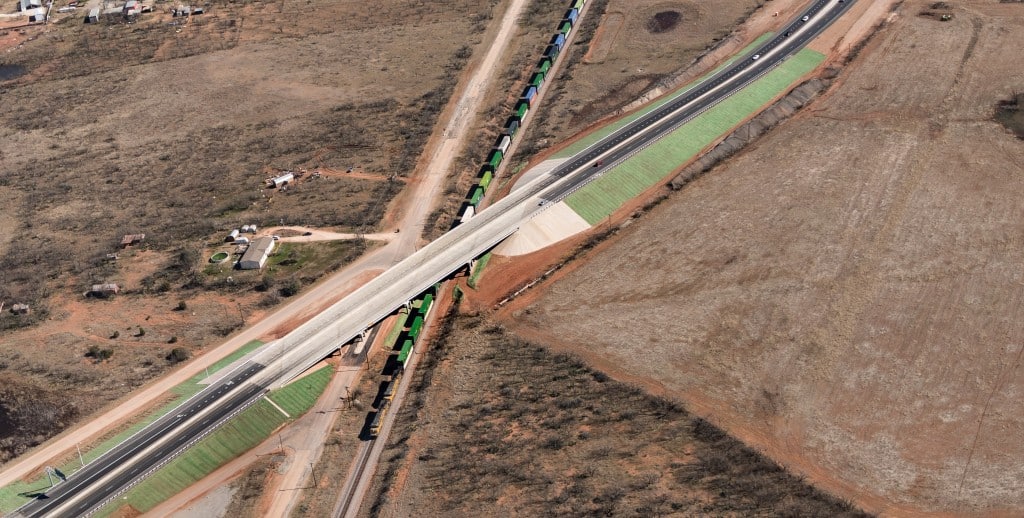 Neither rain, nor sleet, nor snow could stop the Sundt team from completing the US Highway 84 and bridge reconstruction project ahead of time.
Despite weather issues on the site near Abilene, including rain totals that once measured eight inches in 48 hours, we reached substantial completion on the heavy civil project in late December, 33 working days ahead of schedule.
Work included demolition and reconstruction of a 530-foot bridge over Union Pacific Railroad tracks, reconstruction of US 84 and new lighting and roadway barrier improvements. The US 84 project included around half a mile of roadway that was fully reconstructed and installation of 40,000 cubic yards of embankment used to bring the grade up to match the finish slab elevation of the new bridge, which was built by Sundt's Concrete Division.
"This project was successful due to hard-working and talented Sundt superintendents and craft employees who helped construct the new bridge and roadways," said Project Manager Cade Reddig. "Having their experience and outstanding team communication set us up for exceptional coordinated efforts with the owner to get the work done safely and ahead of schedule."
As a result, the team received 100 percent of the Texas Department of Transportation's No Excuse Incentive built into the contract for early substantial completion and the community had a new bridge and roadway finished more than a month ahead of expectations.