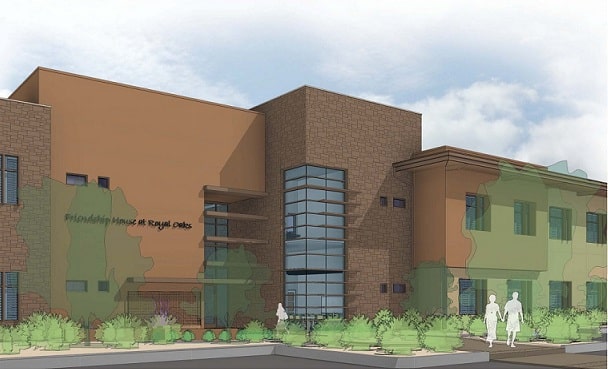 Sundt has broken ground on the Friendship House at Royal Oaks Lifecare Retirement Community in Sun City, Ariz. The $13.6 million senior living construction project is a two-story memory care facility designed to provide lifestyle-focused accommodations for Royal Oaks residents with varying levels of cognitive needs. This is our sixth project for Royal Oaks.
The 53,000-square-foot facility, located near the center of the 38-acre community, will provide memory care in a residential setting, moving away from the skilled-care model that has been the norm at Royal Oaks and many other retirement communities. This new design concept allows for more efficient staffing and flexibility in a comfortable setting that stresses the individualized needs of residents. Personalization is achieved through four "neighborhoods" of fourteen residents each that have distinct interior design themes and create smaller scale living environments.
"We have a strong 12-year relationship with the Royal Oaks team and enjoy working with them on these new projects to enhance the lifestyle experiences for the community's residents," says Sundt Project Director Kurt Wadlington. "This facility, with its new design, will help Royal Oaks continue their commitment to deliver the best care possible for its residents with memory care needs."
Construction is scheduled to be completed in spring 2015.