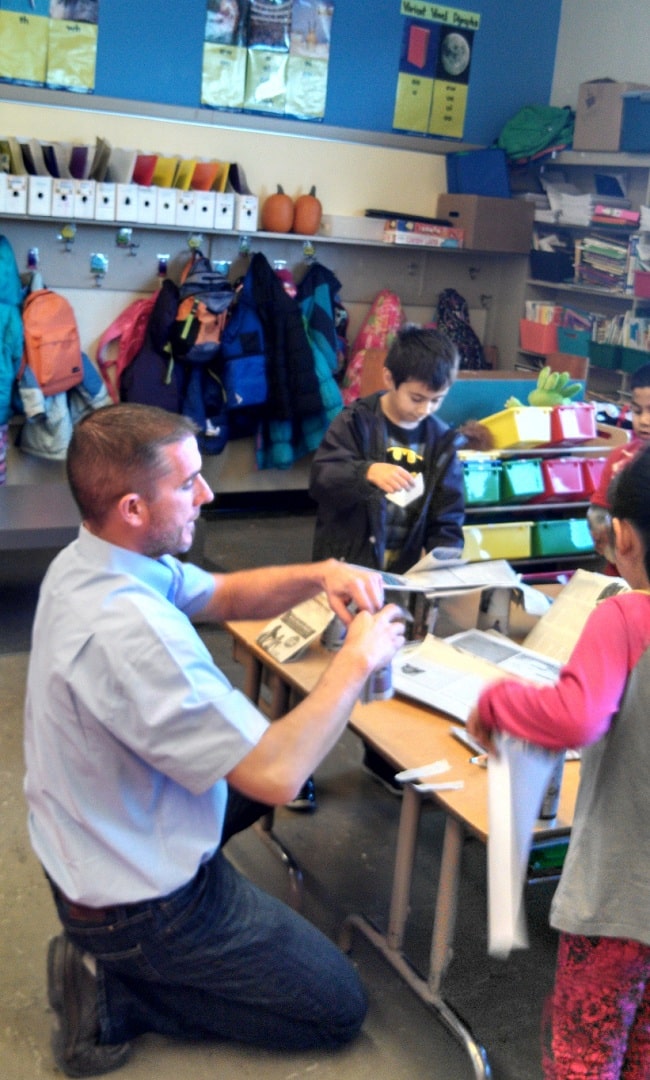 What's it like to design and construct a landmark bridge? How does teamwork affect the process of bridge construction? Employees from Sundt and Slayden Construction recently used a fun, hands-on approach to help a group of first graders at Faubion Elementary School in Portland, Ore., explore that question. Slayden/Sundt is the joint venture team reconstructing Portland's Sellwood Bridge for Multnomah County – a $213 million transportation construction project that will improve safety and traffic flow over the Willamette River.
The professional engineers and young engineers-in-training spent several hours brainstorming design ideas for a model bridge constructed of newspaper, constructing prototypes, and then testing them for success with toy vehicles. Their design ideas (some successful, some less so) included tunnels, triple-decker lanes, corkscrew spiral on-ramps, trampoline bridges, bird nesting nooks, murals, long slides, snack dispensers, and swimming pools. Many hours, glue sticks and stacks of newspaper later, the kids (and probably a few adults, too) had learned a lot about construction and the value and challenges of working with others.
"Multnomah County's School-based Outreach Program is a not only a great way for students to learn about the Sellwood Bridge project; it also gives the kids a glimpse into possible future career paths or areas of study," said Matt Fisher, Sundt Project Engineer. "I was quite surprised at the enthusiasm and engagement of the first graders – they had a lot of fun and came up with some interesting and fairly sturdy bridge designs!"
Designed as an open-spandrel steel arch structure, the new Sellwood Bridge will complement its surroundings while providing ample space for all modes of travel. It will have two vehicle lanes in each direction on the west end (which narrow to one lane in each direction on the east end), two six-foot-wide bike lanes, and two 12-foot-wide sidewalks for pedestrians.
The team is using an innovative "shoofly" (detour) approach to complete the challenging project while reducing costs and minimizing disruptions to travelers. It involves lifting the old bridge deck and truss with hydraulic jacks and moving it off to one side, placing it on a set of temporary piers, and connecting it to temporary approach spans so traffic can continue to use it while the new bridge is constructed. The bridge translation was successfully completed in January of 2013 (more info here). The entire project will be complete in 2016.
To see a time-lapse video of the bridge translation click here.