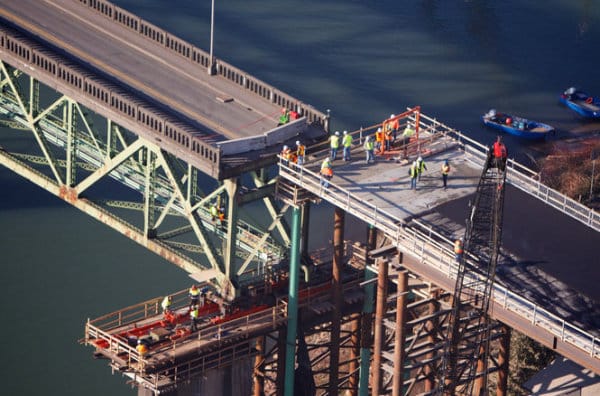 Sundt is using innovative technology to help build challenging projects – projects that are key to solving the nation's infrastructure crisis. Take the 87-year-old Sellwood Bridge in Portland, Ore., for example, which Sundt is reconstructing with joint venture partner Slayden Construction.
As shown in this short video, the team used 3D virtual construction and Building Information Modeling software to develop and communicate a bold idea: that a 1,100-foot-long segment of the failing bridge could be lifted and moved aside onto temporary piers while the new bridge is constructed in its place. The technology was used to present the idea to the client, Multnomah County, and ultimately win the job for three good reasons: it will shorten the construction time, save money, and keep the bridge open during construction.
"Beyond using the model to create short animations, Slayden/Sundt is also using mobile technology to put the 3D model on mobile devices available to field crews," said Eric Cylwik, Sundt Senior Virtual Construction Engineer. "This affords crews the ability to review detailed models to ensure proper communication."
Slayden/Sundt is replacing the aging Sellwood Bridge with a two-deck, steel arched bridge that will improve safety and traffic flow over the Willamette River. The new bridge will have two vehicle lanes in each direction on the west end, which narrow to one lane in each direction on the east end. In addition, it will have two, six-foot-wide bike lanes and two, 12-foot-wide sidewalks.
The $210 million, heavy civil construction project is scheduled for completion in November 2016.