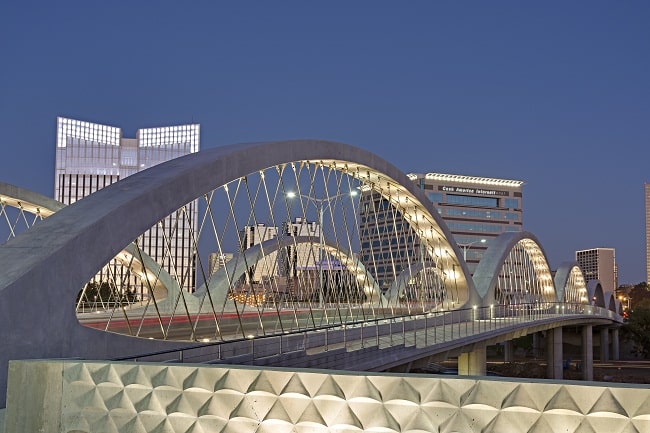 Texans traveling across the newly reconstructed West 7th Street Bridge in Fort Worth have more to marvel at than the 12, illuminated concrete arches that form the backbone of the structure's one-of-a-kind design. The fact that Sundt completed the $24.1 million bridge construction project a month ahead of schedule – reopening it to travelers well in advance of the busy holiday season – is also drawing attention and praise. The 980-foot-long bridge spans the Trinity River and connects downtown Fort Worth to the city's busy cultural district. It opened to traffic on October 9.
Sundt employed a number of innovative approaches to minimize traffic closures during the 23-month project. Chief among them was the decision to construct the 12 precast, post-tensioned concrete arches offsite (with Sundt's own concrete construction crews) and then place them in pairs along either side of the old structure primarily at night. This approach allowed the bridge to remain open to traffic for the four months that it took to make and cure each 163-foot long, 300-ton arch. Once all of the arches were in place, the project team closed and demolished the old bridge and constructed the new one in its footprint.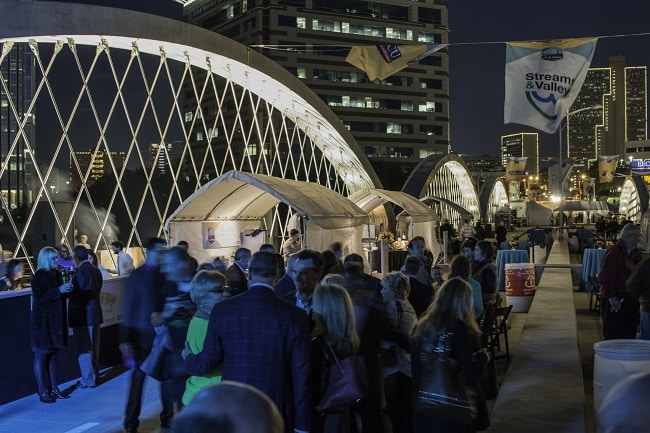 The bridge replaced an old, outdated structure. In addition to its attention-grabbing design, it features four vehicle travel lanes and two, 10-foot-wide pedestrian lanes to ease traffic flow, improve safety and support Fort Worth's increasing interest in bicycling and walking.