SAN JOSE, Calif. (Dec. 6, 2013) – Sundt Construction, Inc., a general contractor with California offices in San Diego, Sacramento and Irvine, is expanding its physical presence in the Bay area by opening a San Jose location to enhance services for clients and industry partners in the Silicon Valley.
With more than $200 million of construction underway in the region, the strategic move represents Sundt's commitment to establish roots in a market that has been an important source of business for the company in recent years. The new location also provides a base from which Sundt can become embedded in the local private and public real estate development community.
"We have been active in the Silicon Valley for some time, particularly in the public sector," said Sundt Vice President and Regional Director Teri Jones, a long-time Sundt executive and industry veteran who will lead the new office. "Now, with several significant projects in progress and the potential for additional growth on the horizon, we believe the timing is right to commit to a full-service office that focuses on our core markets of commercial, laboratories & healthcare, education and government construction."
Sundt recently completed the demolition of the former Warren Hall at California State University, East Bay in Hayward, Calif. The demolition is part of a $40 million education construction project to replace the outdated building with a modern administration facility that meets current seismic standards. Construction on the new building begins in December.
In San Jose, Sundt is executing a $49 million seismic upgrade to San Jose State University's historic Spartan Complex, expected to be complete by mid 2015.
Sundt, in conjunction with Layton Construction Co., also is building a $125 million replacement jail for San Mateo County in Redwood City, Calif., that is scheduled to be operational by 2015.
"Our customers benefit from several differentiators that set us apart from our competitors – namely the financial strength of a national company, proven processes that identify outcomes and price points up front, and the expertise and talent to tackle complex jobs," said Jones. "We believe this new office will enable us to up our game, so to speak, with building owners, other contractors and subcontractors in Silicon Valley and the surrounding area. It also will provide an opportunity to shine by doing what we do best: construct amazing buildings that help our clients attract the best and brightest talent."
Sundt's new office is located at 226 Airport Parkway #310, San Jose, Calif., 95110.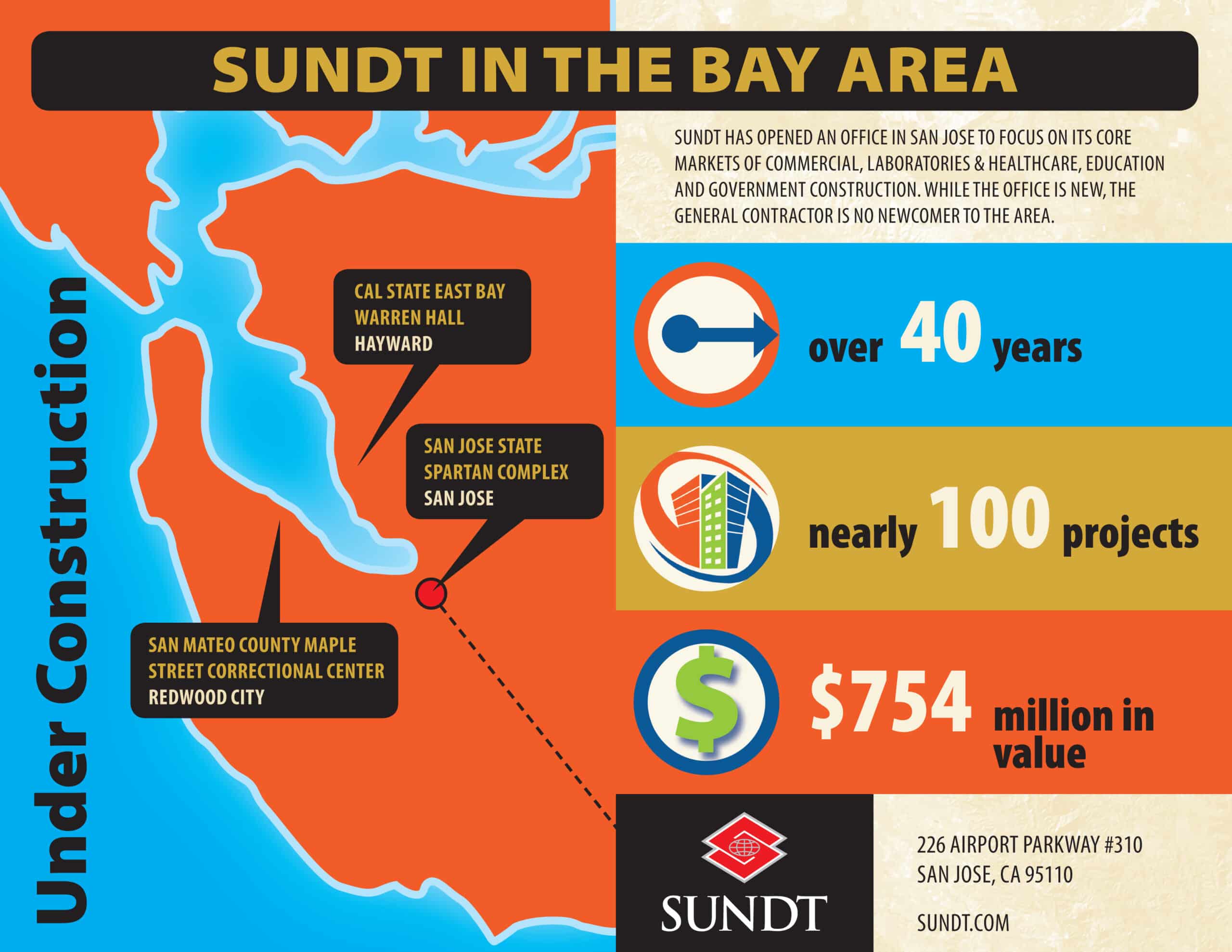 About Sundt
Sundt Construction, Inc. is one of the country's largest and most respected general contractors. Known nationally for its innovative approach to construction services, the firm is currently ranked the 64th largest construction company in the United States by ENR, the industry's principal trade magazine. The company is also ranked 22nd on ENR's list of Top Contractors in California.