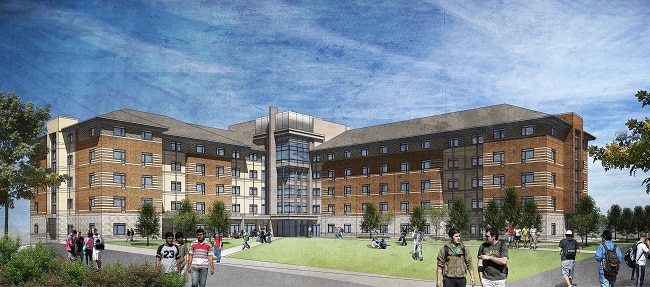 The University of Nevada, Reno recently selected Sundt as the Construction Manager at Risk for a new student residence hall construction project that will break ground in early 2014. The Cooper Court Residence Hall addresses the university's housing needs for an expanding student population with suite-style housing and common lounge areas for 400 students.
The $31 million university construction project consists of the demolition of multiple existing buildings and the construction of the 130,000-square-foot, six-story steel and concrete residential hall. The sustainable project has been designed by the architect, Collaborative Design Studio, to achieve LEED Gold certification and complement the rest of the university's campus architecture with a brick veneer and state-of-the-art building systems.
As a leader in education construction, Sundt is also currently building projects for the University of California, Davis; California State University, Pomona; Coast Community Colleges; University of Arizona; and University of Texas, El Paso.