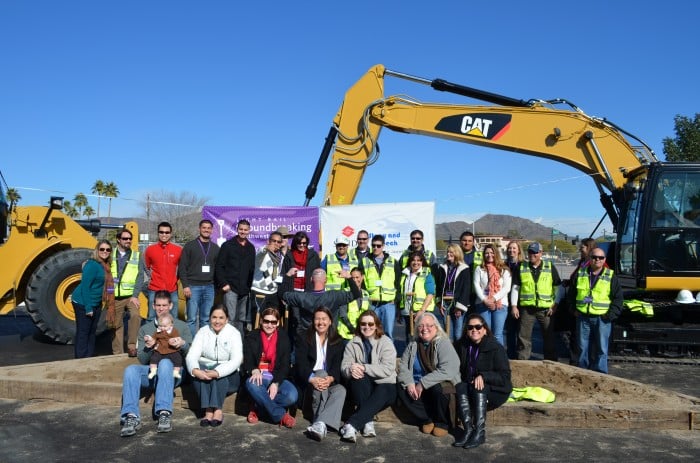 Employees from Sundt Construction and Stacy and Witbeck took part in a community celebration last Saturday to celebrate the groundbreaking of a major heavy civil construction project that will help relieve traffic congestion and improve air quality throughout the Phoenix area.
Valley Metro's Northwest Extension is a 3.2-mile extension of existing light rail facilities that will include three stations and serve approximately 5,000 riders per day. It is being constructed by Sundt/Stacy and Witbeck, a joint venture partnership, and will be complete by early 2016.
During the first 18 months of the project, the team will perform extensive utility relocations and removals throughout the corridor. Water, storm, sewer, gas, private irrigation, power, telephone, and cable are all being replaced, followed by the road and track phases, which include all new curb, gutter, sidewalk, driveways and 3.2 miles of double track.
"Here at Sundt/Stacy and Witbeck JV (SSWJV), we are very excited to bring our successful construction methods to the Northwest Extension," said Mike Howard, the project's community coordinator.  "It is one of the country's premier facilities in both aesthetics and functionality. From 2004 to 2008, SSWJV built more than half of the original 20-mile "starter" section, the 10-mile section from 26th Street and Washington Street to the east terminus at Sycamore Drive and Main Street in Mesa. SSWJV also built the Maintenance and Operations Facility located off of 48th Street, east of Washington Street."