Sundt Construction, Inc. recently completed work on new Warrior-in-Transition (WT) Barracks at Fort Bliss in El Paso, Texas. The design build construction project, which houses returning soldiers with traumatic brain injuries, post-traumatic stress disorder and other injuries, was the very first to receive funding under the American Recovery and Reinvestment Act – topping the list of "100 Recovery Act Projects Changing America" according to a fall 2010 report released by Vice President Joe Biden. The report named the WT Barracks the No. 1 example of successful initiatives born out of American Recovery and Reinvestment Act of 2009, also known as the Stimulus Package.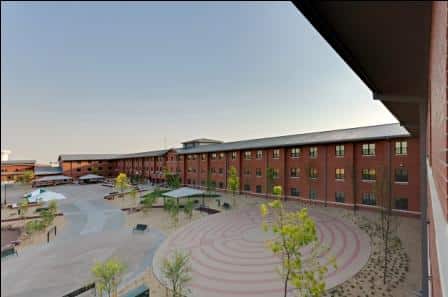 This federal construction project's design is a hybrid of a private-sector apartment and a medical-type facility. Most wounded soldiers residing in these WT barracks are able-bodied but coping with brain injuries or other related limitations. For that reason, the facility includes a myriad of way-finding features, such as designated color schemes for each floor and hand and lean rails for taking breaks. Its campus-minded layout also contains multiple lounge areas to encourage interaction, as well as an outdoor courtyard with a healing garden, walking trail, labyrinth, seating areas and covered canopies for
recreation and reflection.
The WT complex is the first sustainable construction project at Fort Bliss, and it is expected to receive LEED Gold certification from the U.S Green Building Council. Among the facility's green components are low-flow fixtures, preferred parking for fuel-efficient and low-emission vehicles, daylighting, high-efficiency pumps in the mechanicals, high-efficiency cast-iron boilers, insulated piping and high-efficiency A/C. Additionally, a total of seventy-five percent of construction waste was diverted from landfills through recycling, and FSC lumber and low-VOC adhesives, paint and flooring were among the other eco- and health-minded specifications. A detached mechanical yard housing a cooling tower, associated piping and pumps and an array of solar water heating panels work to capture the Texas sun and fulfill 30 percent of the facility's hot water demand. Because of the warm climate, there is no asphalt on the project – only concrete and white paving to minimize heat island effect.
The facility welcomed soldiers last month, and a ribbon-cutting ceremony was held to mark its completion. Sundt is very proud to have been part of this important project, which exists to serve the needs of soldiers who have served and will continue to serve our country.