Sundt kicked off summer in an award-winning way at the Design-Build Institute of America – Western Pacific Region awards ceremony in Newport Beach earlier this summer. The design build contractor took home awards for two California projects: the County of San Bernardino Juvenile Detention Center won best regional project in the correctional category, and the UC – Davis Graduate School of Management, Offices and Conference Center won an award of excellence in the education category.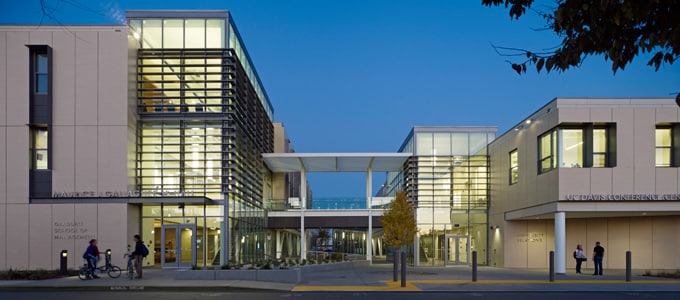 The UC – Davis project is composed of Gallagher Hall and an adjoining Conference Center, with Gallagher Hall serving as the home of the UC – Davis Graduate School of Management. The $34 million design build construction project launched in October 2007 and was completed in September 2009. The three-story, 83,000-square-foot facility features state-of-the-art classrooms equipped with advanced technology systems for a bright, open and interactive learning environment. It also includes a modern student affairs and career services center, an outdoor garden, and a courtyard space for special events and networking. Gallagher Hall's eco-friendly construction is expected to LEED Gold certification, making it the first business school building in California to do so. Meanwhile, the adjoining Conference Center comprises the University Relations Department, ballroom, conference rooms and space for a restaurant.

The County of San Bernardino Central Valley Juvenile Detention and Assessment Center broke ground in May 2009, opened for occupancy in March 2011 and was completed in June 2011. The $59 million design-build construction project features a campus-style layout with multiple housing units: three 80-bed units and one 40-bed unit. It is divided into 20-person modules and consolidates medical, education and dining services to reduce transportation time and increase operational efficiency. The center also includes a kitchen, classroom space, common areas, exercise rooms, outdoor sports facilities, an intake/booking center, office space, a warehouse and a state-of-the-art electronic security system. Other components include a front entry and staff parking lot. A feature article showcasing this facility is set to appear in an upcoming edition of Correctional News magazine.